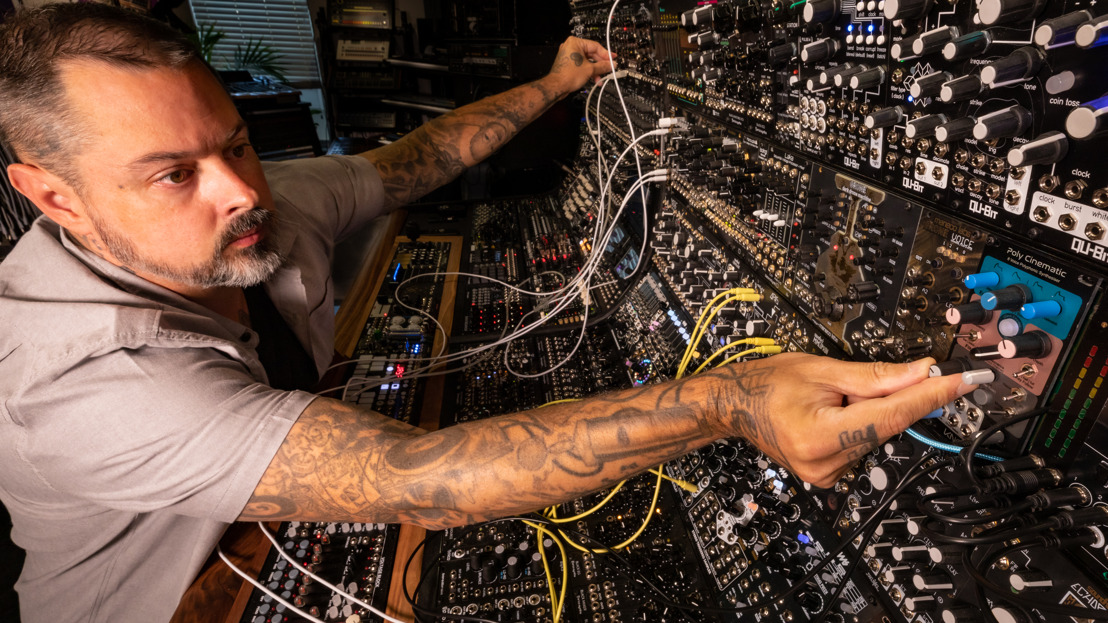 'Sound Explorer' Jay E Finds Power and Versatility in Knobula's Eight Voice Poly Cinematic Eurorack Module
"You can make these beautiful chords — particularly on top of other aggressive sounding Eurorack modules. These pretty layers round out the sound and just glue everything together."
St. Louis, MO, August 29, 2022 — While Jay E has been a successful electronic music producer for more than two decades and helped put the St. Louis hip-hop scene on the map with his production team Basement Beats, he only began working in Eurorack modular a year and a half ago. Over the course of his career he has found success with a myriad of artists such as Nelly, Justin Timberlake and the Isley Brothers, among many others. Coming from a classic hardware-based production heritage, Jay E was drawn to the tactile and experimental nature of modular, and eventually acquired a Knobula Poly Cinematic module. ​
"I've been a hardware user from day one," Jay E explains. "I came up on two-inch tape from the beginning, and the main parts of my system are hardware based. Now that he has gotten into Eurorack, he says it has become addictive: "I started with a little set up and then it ended up being big and now it takes up my whole wall in the back." While he doesn't work exclusively in Eurorack, he will often use his system to create demos or sound sources for projects he is working on. "I love sound exploring, he says. "When you do this every day for however many years I've been doing it, you always want to try something different and be put in front of different instruments to enhance your creativity," he says.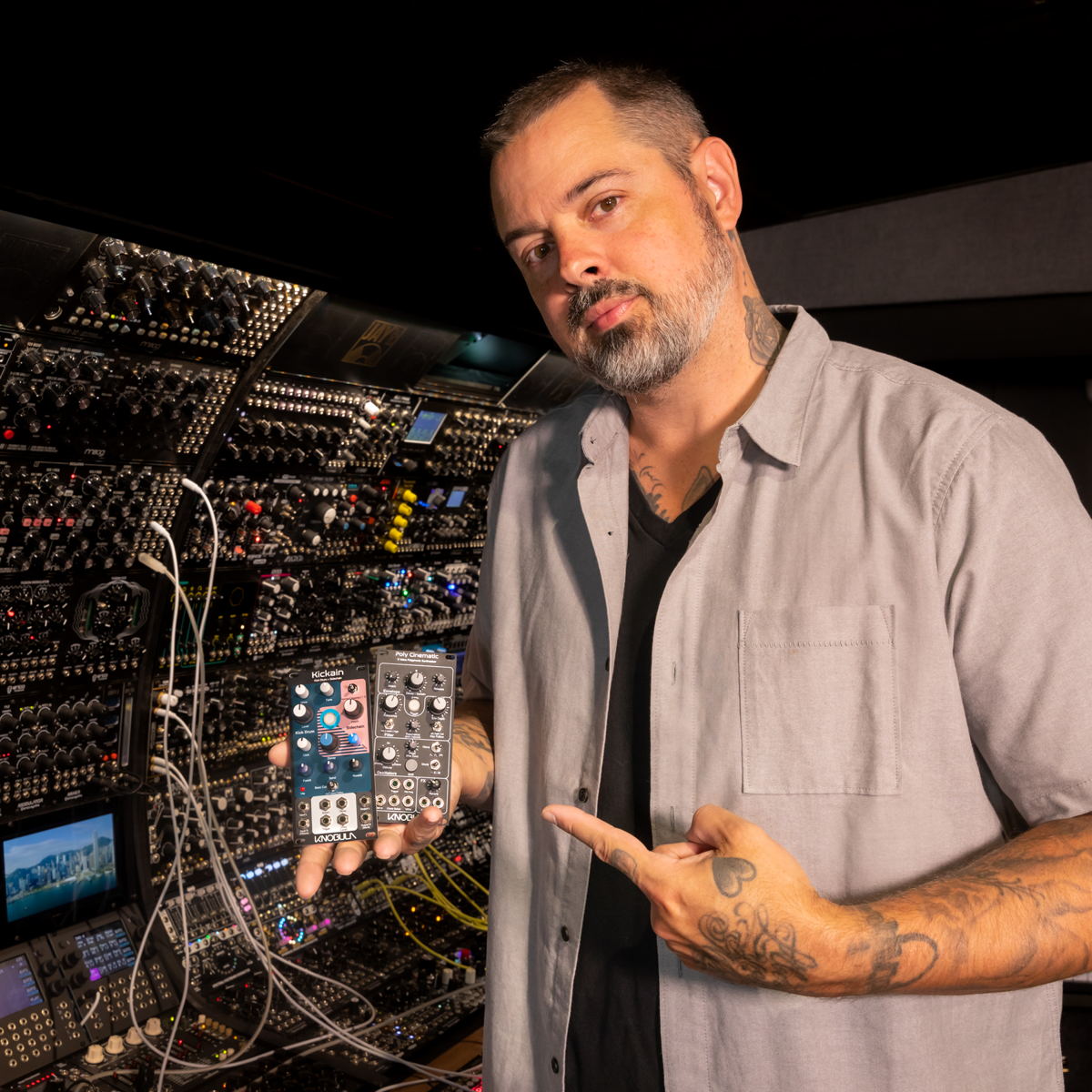 Taking the plunge with Poly Cinematic
​During the recent lockdown, he decided to recalibrate his studio and among other pieces of gear, decided to purchase a Poly Cinematic. "This was about the same time I took the plunge into Eurorack," he recalls. "Poly Cinematic had just been released and I thought it was perfect since it meant that I could stay in a Eurorack mindset while composing, without turning on my Juno or other synths." He was also impressed by Poly Cinematic's extensive sonic palette: "I thought it sounded really huge with its variable waveforms and integrated envelope, filters and reverb. It turns out that it has been a great tool for me — for what I am working on, you can either make it sound really subtle or take up the whole show if you want to."
Jay E keeps the MIDI connection of his Poly Cinematic 'hard-wired' into his Arturia Keystep Pro or his Endorphins Ground Control, depending on the project involved. One of his favorite things to do with Poly Cinematic is to create huge sounding, polyphonic pads and layer them on top of other sounds: "You can make these beautiful chords — particularly on top of other aggressive sounding Eurorack modules. These pretty layers round out the sound and just glue everything together," he says. Entering the world of Eurorack and modular synths can be a daunting undertaking, even for experienced producers and musicians. Jay E recalls taking the plunge into Eurorack, and how Poly Cinematic kept it more about the music than the tech: "My first impression of Poly Cinematic was how easy it was to use," he says. "Eurorack can be a little overwhelming, especially for a newcomer. Using the Poly Cinematic, nothing was over my head: the envelope was super easy to use, and the knob per function interface was exactly what I needed."
Vast sonic possibilities and enhanced workflow
​Apart from its eight built-in voices, Jay E appreciates how he can alter Poly Cinematic's built-in sound sources with onboard effects and filtering: "The filter sounds absolutely amazing, and I love the detuning knob, which kind of reminds me a lot of the Junos. Also having reverb onboard is really handy." With all of these sonic possibilities and functionality, he finds it is rather easy to fill up a track: "I have made many tracks with nothing but the Poly Cinematic, bass and drums and that's it."
As a working producer who is mindful of his set up and efficiency, Jay E says that Poly Cinematic has been transformative: "It is super-fast and has enhanced my workflow and has given me one less thing to worry about in terms of getting poly chords in my Eurorack material," he says. "I treat the Poly Cinematic almost like a vintage synth — like a Juno 60 — I really don't need anything else. I am really anxious to try the Knobula Kickain, and this is next on my list. I know it's going to be amazing, because I am using the Poly Cinematic all the time."

​About Knobula
​Knobula are creators of the revolutionary polyphonic synthesiser Poly Cinematic. The London-based company produce advanced digital modules for the eurorack format, with an emphasis on smart design and simple, tactile controls, Knobula's philosophy is to put performance back into electronic music.