Robert Plant and Alison Krauss' 'Raise the Roof' on Tour with Solid State Logic Live L550 Console
"Over the last couple of years, I've used many other consoles and it just sounds so much better than anything else. It's the only way to go."
Nashville, TN, January 17, 2023 — When front-of-house engineer Mark Kennedy was prepping for Robert Plant and Alison Krauss' monthslong Raise the Roof Tour of Europe and the United States he knew there was only one mixing console to specify — a Solid State Logic Live L550. "Over the last couple of years, I've used many other consoles," Kennedy says, "and it just sounds so much better than anything else. It's the only way to go."
Kennedy first worked on an SSL Live while working with UK electronic band Faithless on their 20th anniversary tour in 2015. When he started working with Plant in 2018 — he also mixes Robert Plant and the Sensational Shape Shifters — an L550 was already in the touring package, having been specified by his predecessor at FOH.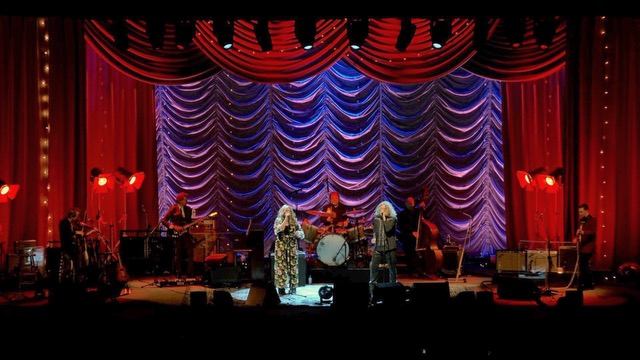 'The best sounding console in the world'
​There are several reasons why Kennedy favors the sound of SSL's Live console over the alternatives, he explains. "I really can hear the difference between the various manufacturers' consoles. That's why we use the SSL Live console — it's the best sounding in the world. It's extremely transparent and clear, but not in a brittle or a harsh way. And the bottom end is really good."
The clarity of the SSL Live console was especially noticeable during Plant and Krauss' run of summer festival dates in Europe, he says, where sound pressure levels are often regulated. At one festival, someone checking compliance was surprised to find that Kennedy's mix was below the permitted maximum SPL. "He said, 'It sounds really loud!' But it's not the level; the console just has that quality and depth of sound," he says.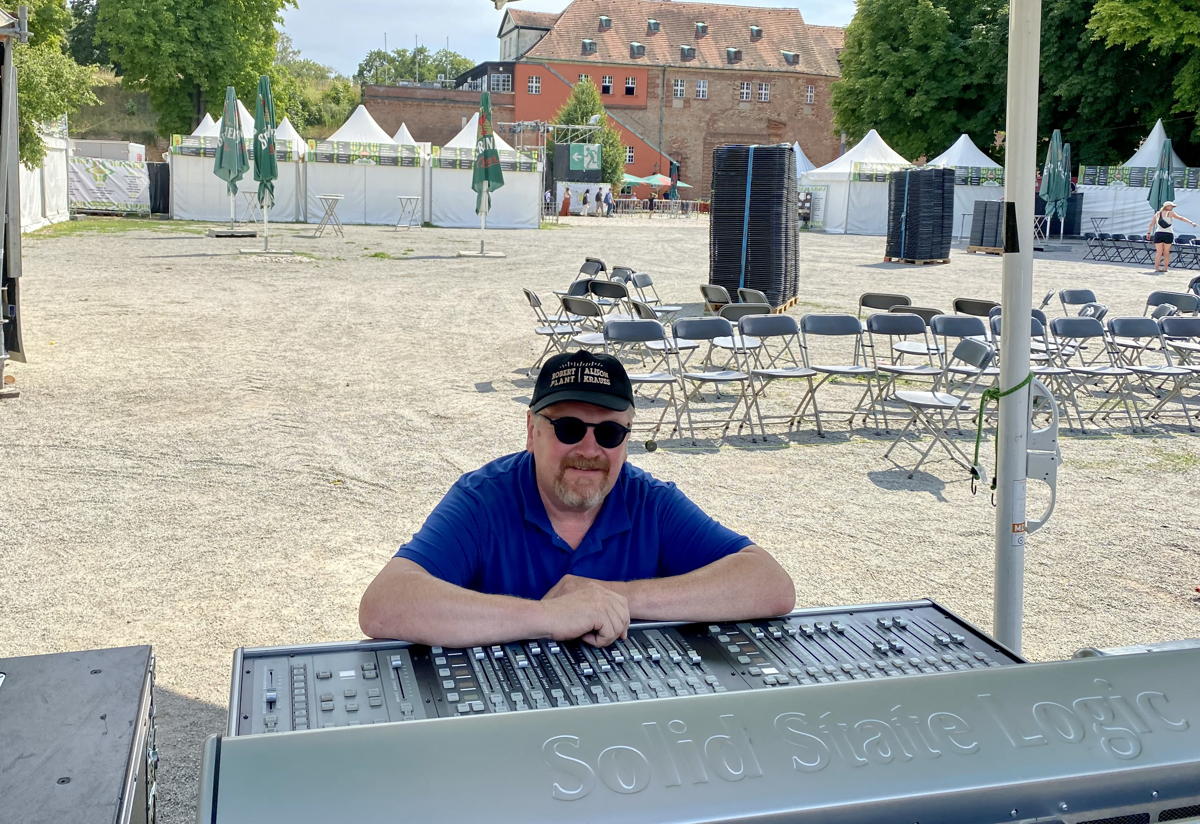 Unwavering support from DCR Nashville
​Paul Owen, president of DCR Nashville and account manager for Plant, with whom Owen has worked in various production roles for many years, provided the control package for the two U.S. legs of the Raise the Roof Tour. "DCR Nashville have been excellent, really supportive," Kennedy says. He also comments, "Paul has worked with Robert for longer than I have."
Owen adds, "Robert Plant transitioned to SSL Live a few years back. I was fortunate enough to be supplying audio, from a former company, on the first Robert Plant and Alison Krauss tour, the Raising Sand Tour, in 2008. When this tour came to light, knowing how well it was going to be received, DCR Nashville stepped up and purchased our first SSL 550. The outcome was spectacular, from the artists' performances to Mark Kennedy's mix."
For the European leg, which included appearances at Glastonbury Festival in England and Roskilde Festival in Denmark, Clair Global's Britannia Row Productions supplied a Live L550 console and control gear.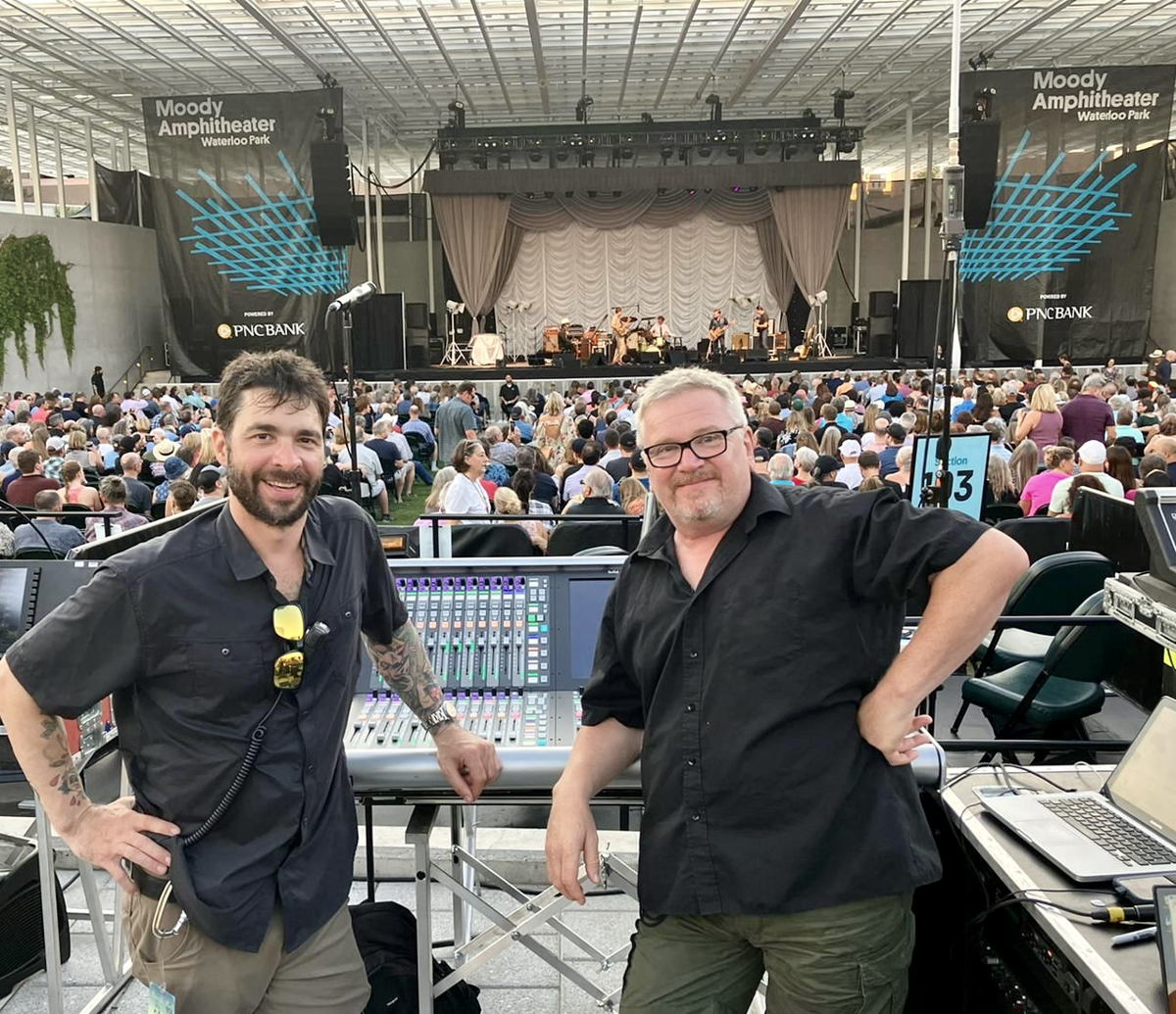 SSL EQ, onboard processing and effects
​Kennedy likes to keep things simple with the band, which features five musicians in addition to Plant and Krauss. "I don't like to overcomplicate things with too many effects or too many compressors," he says. His go-to processing is on the SSL Live console's channel strip. "I find that the onboard compressor on the channel strip is more than adequate. Then I use selected effects, on the double bass or the vocals or what have you."
He continues, "Effects-wise, it's pretty simple: just instrument reverb and vocal reverb. I've found that the new reverbs on the console are really great. They sound fantastic, especially on the vocals. I only have one external effect, an old TC Electronic D2 echo, which we use on Robert's voice for the big sustained vocal thing that he does." ​
As for the EQ on the SSL Live console, he says, "It's flexible and precise. I find myself using quite narrow Qs and being very surgical. But sometimes you just want a big push in the midrange to bring out the guitar, so you can use it quite wide, and it will give you that lift."
Kennedy uses the console's all-pass filter a lot, he says. "That's a go-to, especially for acoustic instruments." For example, for multi-instrumentalist Stuart Duncan, he says, "I have a microphone for his resonator instruments, like banjo. Sometimes he comes in close to the mic, and I can jump on the all-pass filter and bring up the tone. You don't have to look at the board. When it sounds right, it is right. You can get tied up in looking at graphics. Just turn the knob and see what happens."
Managing I/O with simplicity
​To manage his inputs, which numbered around 56 for this tour, he reports, "I use one layer for my inputs, then I use the banks for song-specific stuff." For instance, Kennedy says, "I have all the guitars for one song together, so whatever I need is at my fingers really quickly. I use Fader Tile one as a master, either VCAs or matrixes or utility or effects. Then I duplicate everything on Tile two and Tile three so that I can push the vocals up at the same time as I'm turning the guitar down, or whatever."
On the output side, Kennedy uses his matrix to drive the house PA, typically configuring it for left, right, sub, infill, outfill and delays. Beyond the control surface, he continues, "I really like the fact that you've got parallel outputs on the SSL Stagebox. That has been so useful. You can give an output to broadcast and it sounds fantastic." ​
Easy navigation on the fly
​What Kennedy truly appreciates about SSL Live is how quickly he can access the controls that he needs in the moment. "I love the Navigate Up button, which gets me straight to the gain, then I can flip from that to the trim, the phase and the pad. You can get there instantly. I find that really, really useful." Since Plant and Krauss generally don't soundcheck with the band, Kennedy must be on his toes as soon as the show kicks off. "On the first song I'm flat out, so it's all about the speed. And the Live console is really fast to navigate once you get your head around it," he says.
He adds, "I have a fellow with me called Dan Currie who is a fantastic systems engineer. He's down the front and up the back and in the room on a Lake Processor on a wireless tablet, listening to what's coming out of the speakers. Because the truth is that you can't mix sound in these big arenas on your own. You need one person moving around — and I'm stuck behind the console."
​
About Solid State Logic
​Solid State Logic is the world's leading manufacturer of analogue and digital audio consoles and provider of creative tools for music, broadcast, live and post production professionals. For more information about our award-winning products, please visit: www.solidstatelogic.com.