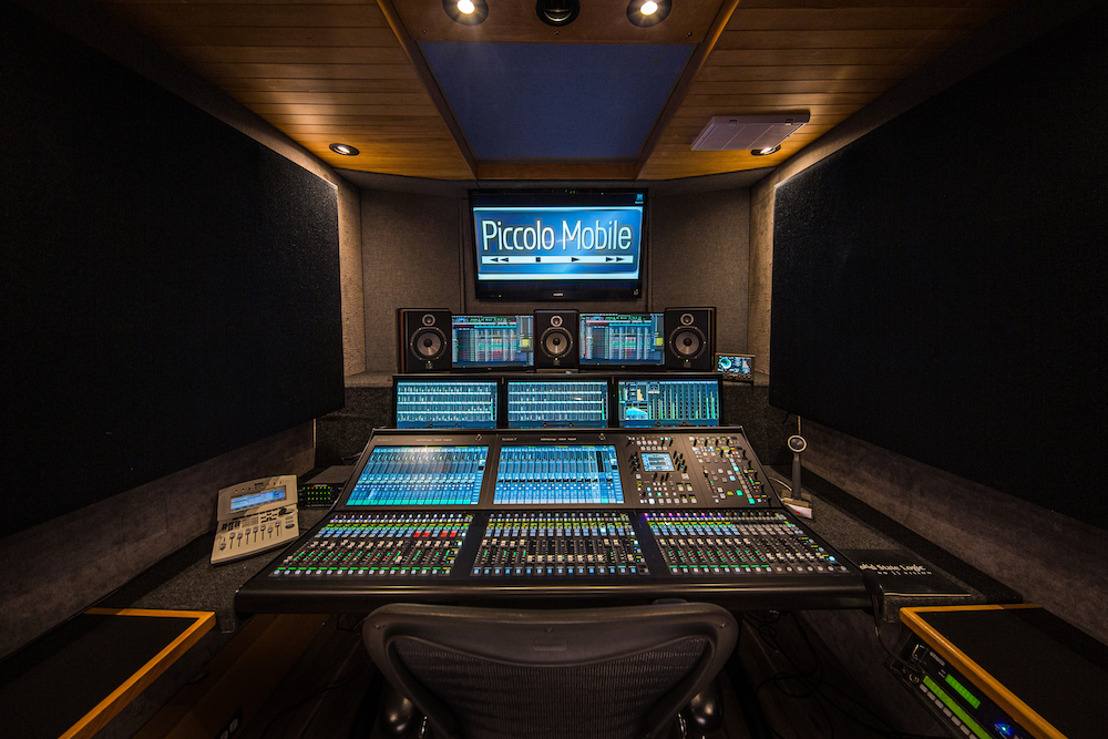 Montreal's Piccolo Mobile Remote Upgrades to Solid State Logic System T Networked Broadcast Audio Platform
Denis Savage, SSL user for 20 years, says "System T is very clean and huge sounding"
Montreal, QC, Canada, April 1, 2021 — Studios Piccolo, the largest recording facility in the province of Quebec, upgraded one of its Piccolo Mobile remote production trucks in January with the installation of a Solid State Logic System T networked broadcast audio platform. The truck's new System T comprises a 48-fader S500m compact and lightweight mobile modular control surface, twin redundant Tempest T80 engines, supporting up to 800 signal paths, and a 16-fader remote Tile.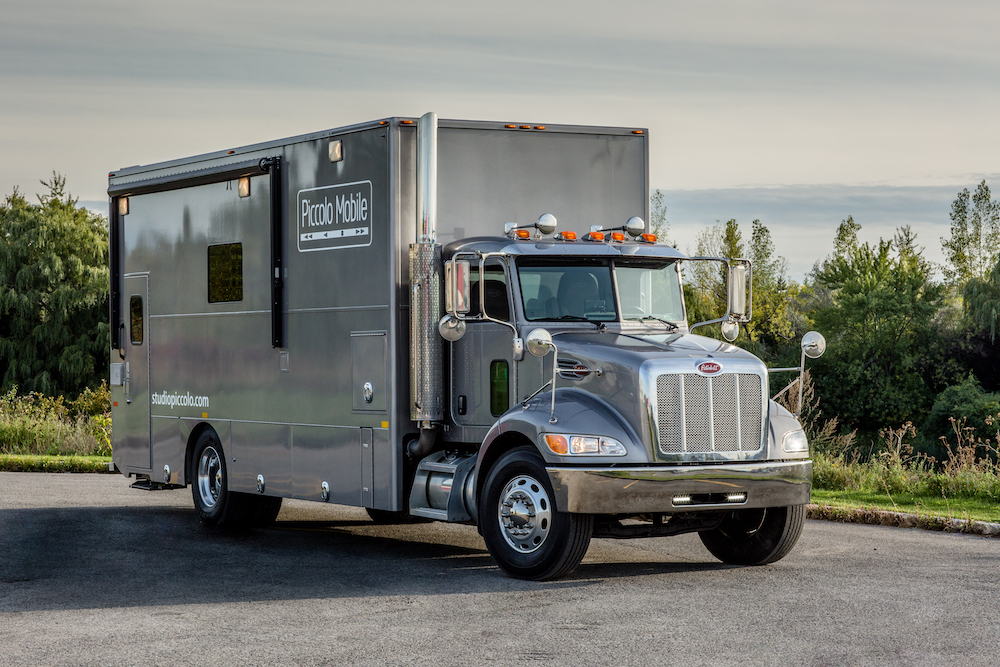 There were a number of reasons why Piccolo chose System T, says company co-founder Denis Savage. Not least of those is that the studio is a longtime SSL user and was the first Duality-equipped commercial facility in North America. Further, Savage, who has been Céline Dion's tour manager and FOH engineer for several decades, installed an Axiom MT+ digital music production console at the Colosseum at Caesars Palace in Las Vegas when the singer began her years-long residency there in 2003. Savage switched to SSL's Live series desks for Dion's shows in 2014.
The perfect fit for Piccolo Mobile's discerning clientele
But for Piccolo Mobile's clientele, says Savage, the company needed a more specialized console. And the SSL System T is specifically designed for today's fast-paced and complex broadcast environment, he says. "The number of inputs — up to 800, with EQ — and how we can quickly build mix-minuses, make it a great console for us. Plus, it's very quick to set up. If you have a basic layout on your console, you arrive in the morning, just add inputs and it puts everything in the right order. In no time you're ready to rock."
Piccolo Mobile's team integrated the new System T into the larger of the company's two trucks, PM2, between Christmas 2020 and the new year. "We also upgraded Pro Tools in there to record 192 tracks," says Savage. "We have four Pro Tools systems in each truck, two to record and two to mix, so they are redundant."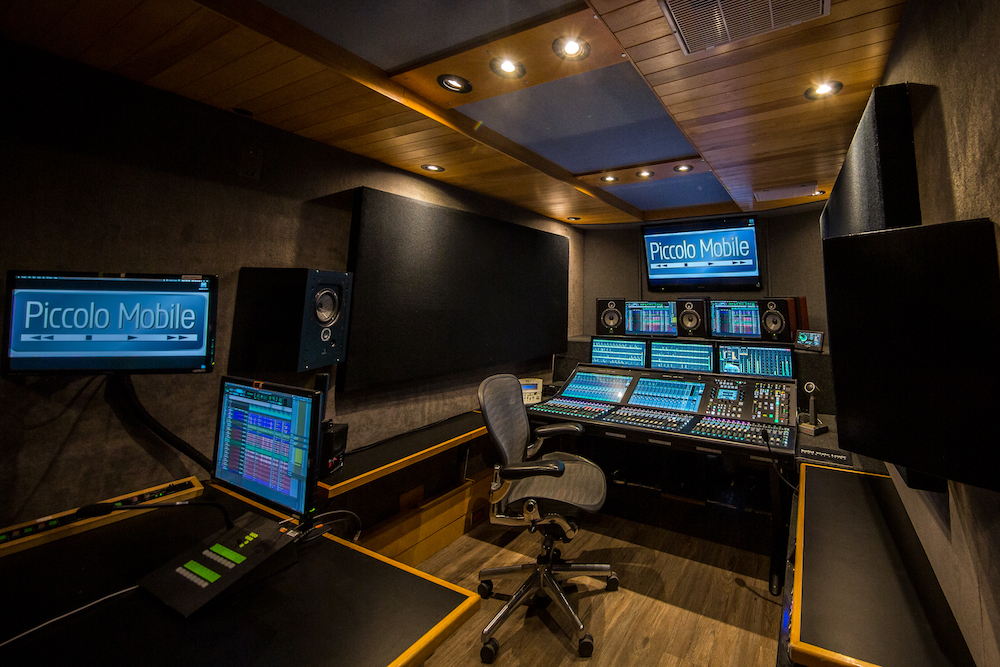 SSL System T: A spectacular debut on the big stage
The truck's first gig with the System T was a project with the Montreal Symphony Orchestra. It was then positioned at MELS studios in Saint-Hubert, a Montreal suburb, for the months-long production of Star Académie, one of the francophone province's top-rated TV shows. The reality TV show, to find young singing talent in French-speaking Canada, launched in 2003 and aired for five seasons until 2012. It was consistently the highest-viewed program of the week. The latest season of the singing competition, which premiered in mid-February, airs live on Sunday nights on a two-hour-plus show, following two days of rehearsal then a final run-through.
"It's a massive show with a bunch of singers and a bunch of guests," says Piccolo engineer Charles-Émile Beaudin, who works in the truck with show mixer Simon Bélanger. The show generates about 140 inputs, including more than 20 vocal microphones, and typically features over 30 songs per episode. The lines from the stage, which is in-the-round in the absence of a studio audience during the Covid-19 pandemic, split to three FOH and monitor consoles in the house and are transported over MADI to the System T in the truck outside.
Bélanger uses Layer Manager in System T's software to reposition the faders that he needs for different segments of the show at his fingertips. For instance, during one part of the show, contestants each sing one line of a song in turn. "Having the Layer Manager is a great factor to help us go fast when it's medleys. I put all the vocals in a row, and I can just travel down the faders," says Bélanger, who is able to quickly raise and lower each singer's level in quick succession.
During the mash-up part of the show, one singer will take the lead before switching to background vocal while another singer takes over. "That's where the System T also comes in handy, switching the stems, reverbs and panning. It's really fast," says Bélanger.
System T's processing and effects rack is regularly put through its paces as the young contestants find their voices, says Beaudin. "They're being coached each day and trying different things. The timbre of their voices changes dramatically from song to song and day to day. So we use a lot of dynamic EQ and different reverbs and effects."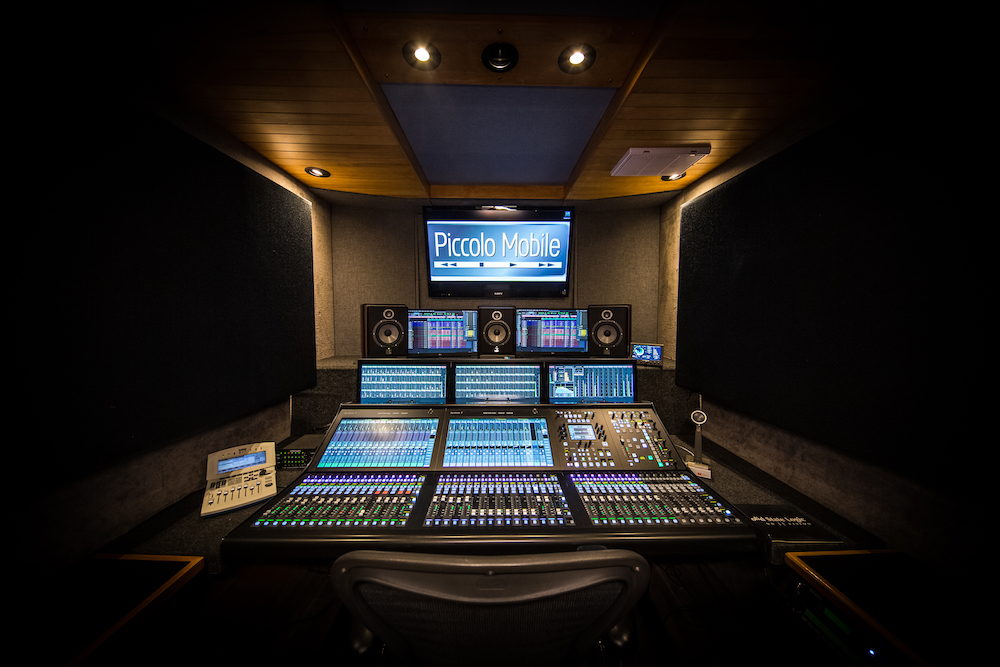 Audiophile-grade sound quality and unmatched flexibility
Having put in many hours on the SSL Duality at Studios Piccolo, Beaudin is well placed to compare its sound and performance to the System T. "From week to week you start to get a sense of what it sounds like, what it does, how it feels," he says. "System T is very clean and huge sounding. It doesn't change the sound drastically; it just sounds good. Over time you realize that the headroom is great, and it sounds wide and deep."
Beaudin adds, "Of course, we use the SSL Bus Compressor, which is the same as the Duality. Sometimes I think, am I really compressing that much? Because it's not hurting the mix!"
Up to three surfaces can control any System T at the same time, but thus far the truck's Fader Tile has stayed in its box, says Beaudin. "We were planning that maybe I would mix some things in the background. But we haven't had to use it yet because Simon is doing a wonderful job and he doesn't need me to help him." But in the future, he says, "There will be a lot of shows where, let's say, I'm mixing the music on the console and there will be a guy behind me mixing the traffic stuff — same engine, different surfaces."
The Star Académie 2021 production is complex, what with so many live microphones and the pace of the production leading up to each live broadcast, says Beaudin. "It's really not simple and we've got to do it quickly. But the great thing about System T is that it manages this easily. There's a ton of ways to get in and out of the console. We send record tracks to the stage and they send us stuff that doesn't go on-air. We both have talkback in the truck and use matrixes to route that. But it has way more range than the way we use it. And I don't think we have ever said no to a request."
###
About Solid State Logic
Solid State Logic is the world's leading manufacturer of analogue and digital audio consoles and provider of creative tools for music, broadcast, live and post production professionals. For more information about our award-winning products, please visit: www.solidstatelogic.com.