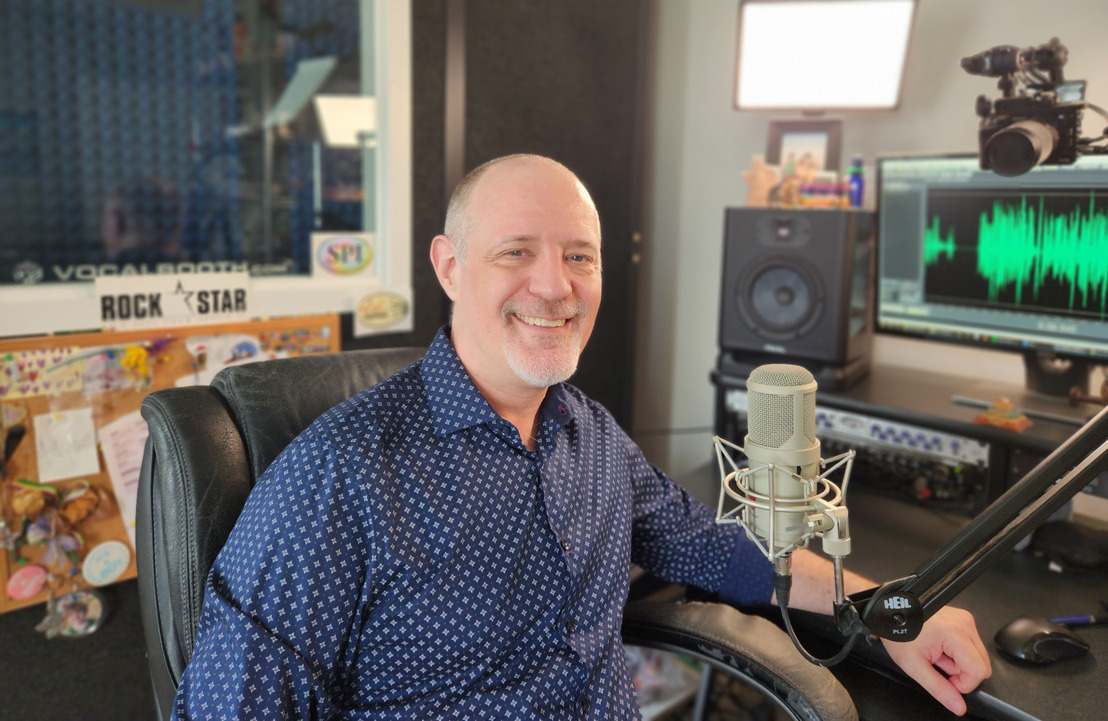 Marc Preston Brings Warmth and Transparency to 'Story & Craft' Podcast with the Lauten Audio Clarion
Expert voiceover artist/podcaster on capturing the spirit of conversation and cultivating emotional warmth in audio with the right signal chain
LOS ANGELES, CA, August 30, 2023 — Marc Preston's face may not be immediately familiar to most, but millions have heard his voice — a distinctive, warm baritone that has graced thousands of projects in radio, film, television, and the internet over the last four decades. The in-demand voice over artist, actor, and educator can be heard on promos for televisions affiliates and major networks like ABC, NBC, CBS, and FOX, commercials for well-known brands such as Buick/GMC, LinkedIN and BobCat, shows like The Astronaut Wives Club and Stingers, as well as founding and curating The Voiceover Community, the largest professional resource in the world for voiceover actors like himself. More recently he has found a new role as the creator and host of Story & Craft, a long-form conversation-focused podcast that has returned Preston to his radio roots, having been a major market and nationally syndicated host on the ABC Radio Networks. This has paired him with pop culture luminaries such as actor/musician Billy Bob Thornton, astrophysicist Neil deGrasse Tyson, and comedian Dane Cook for in-depth conversations about life, purpose, and creativity. Recognizing the need to create a warm, intimate sonic atmosphere for these conversations, Preston chose the Lauten Audio Clarion microphone as the key component of his vocal recording signal chain.
The spirit of radio
​Story & Craft harkens back to Preston's earliest days as a radio DJ, where he first learned the art of cultivating a personal touch with his listeners and guests. Eschewing a larger-than-life persona and focusing on creating a comfortable atmosphere for a conversation has become a key trait of his work as a podcaster. "Empathy is the strongest muscle you have to flex, and I think listeners can tell the difference in podcasts where that conversational connection doesn't feel real and the questions feel too scripted," he explained. "When I first envisioned the idea for the show, it was to step out of those roles of 'interviewer' and 'interviewee' and really try to dig into people's stories in a way that felt organic."
"Ultimately Story & Craft is a reflection of my own interests and curiosity, so the conversations I encourage with my guests come from a real place that I think brings out a different side of them that I hope listeners will enjoy hearing."
Given his format and professional background, Preston has come to put a lot of emphasis on how he hosts the show and captures his voice in order to create the right atmosphere for his listeners. This has led him to develop a very personal relationship with the microphones and equipment that he uses in order to find the ideal mix between the technical and emotional elements of his work. "When you're speaking into a microphone you have to show up in that moment, and in a way that is authentic, otherwise listeners won't feel drawn into what you're doing," he explained. "Part of that authenticity is how the audio sounds — what kind of quality it has, what it evokes in a listener — it's more complex than people may think."
"If you mix presentation with a great mic chain, it really elevates it. With my broadcast and production background, it's hardwired into my DNA to care about the quality of the audio. I always invest a lot of time in getting it absolutely right so I can focus entirely on the conversations that I'm having."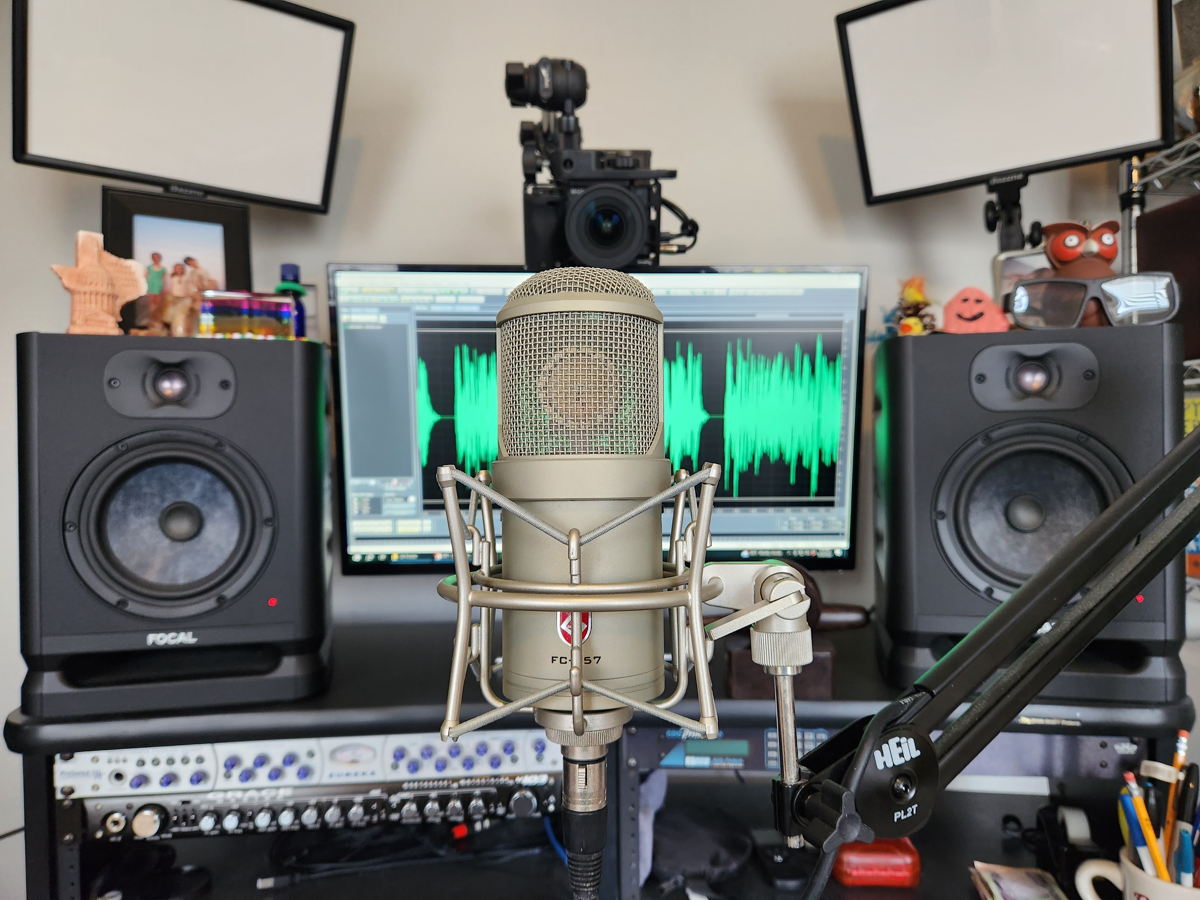 Transparent tools for clean, approachable sound
​Preston records his podcasts and much of his voiceover work remotely from his home studio, utilizing his Lauten Audio Clarion through an SSL BiG SiX console. Although he is quick to describe himself as 'not an engineer', his years at radio stations, the ABC Radio Networks and recording studios allowed him to develop a sensibility for the type of sounds that suited his voice best. His choice of signal chain came together once he found a centerpiece that could capture the exact qualities he was looking for. "It was very important to me from the get-go to find a signal chain that would work for the podcast — something that would elevate the voice in a transparent way that didn't feel too 'overdone'," he explained. "The Clarion is clean, articulate, and approachable sounding in a way that I gravitated to right away. The fact that it had all of these qualities while being its own thing, having a unique Lauten sound signature, made it very appealing to me."
"It gives you that feeling that you're sitting right next to the person speaking," he continued. "That's a critical quality to have in a podcast microphone because you want that emotional ease and warmth to be evident as the audio is entirely what the audience has to go on."
With 36 episodes and counting of Story & Craft and a growing audience, Preston continues to push forward on his latest project while maintaining a busy schedule in his other endeavors. His enthusiasm for what he does has not only enabled him to thrive in his work, but also spread his knowledge to those that look to follow in his footsteps. "I tell this to my voiceover students all the time, 'Words are powered by emotion and that enthusiasm and curiosity will come across to anyone listening,'" he said. "That people have actively chosen to follow the show makes me incredibly happy and also makes me want to ensure that I keep crafting a show that people want to hear."
"Having the right tools to achieve these goals, and being excited about those tools, is a driving force in that. I found a tool that I really believe in with the Clarion, and now I feel confident that every time that I speak, what ends up in people's earbuds or car stereo is going to communicate that intent and wonderful audio quality."
For more about the Lauten Audio Clarion, please click here.
About Lauten Audio
​Lauten Audio is a family-owned maker of original, inspiring microphones. Currently available products include the flagship "Eden" tube microphone, the award-winning "Atlantis" FET condenser microphone, the groundbreaking "Synergy Series" of noise-rejecting condenser microphones, and the new Series Black family of condenser microphones. Lauten Audio and its diverse family of users can be found in studios, on stages, and in homes worldwide.
For more information, visit http://www.lautenaudio.com or call 1-877-721-7018.

Steve Bailey Public Relations, Hummingbird Media, Inc.