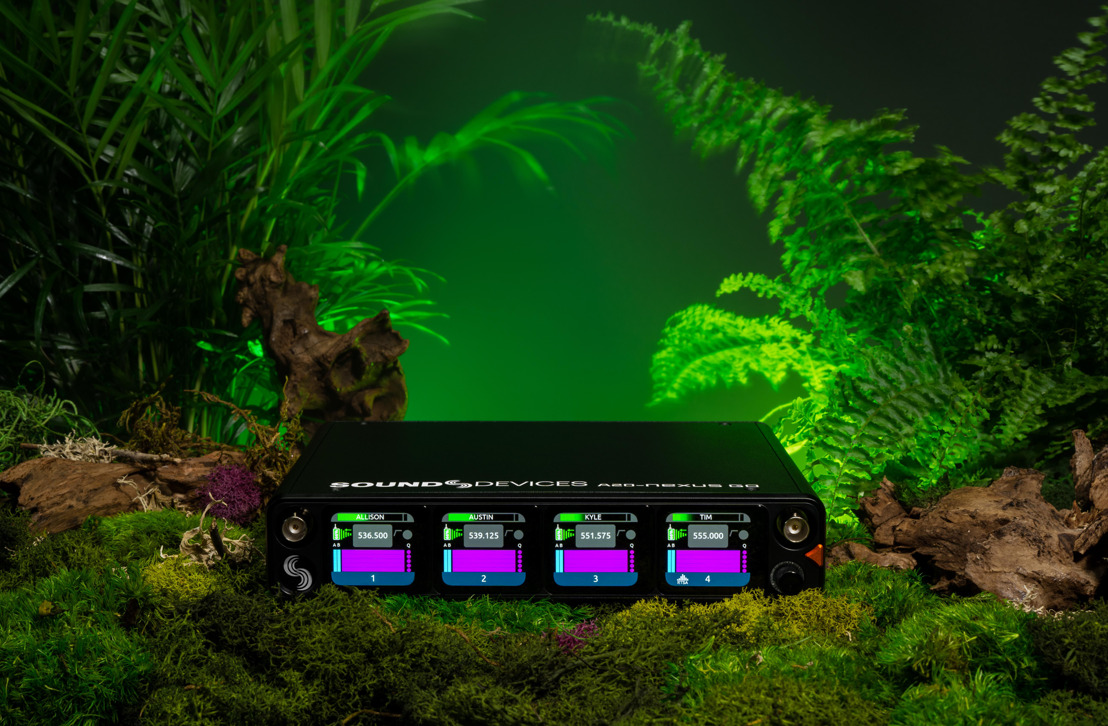 IBC2023 — Sound Devices Celebrates 25th Anniversary and Astral Family Wireless Products
A20-Nexus Go and A20-TX complete series of best-in-class wireless audio solutions
AMSTERDAM, NL, September 5, 2023 — Sound Devices will be celebrating its 25th Anniversary with an appearance at IBC2023 in Amsterdam, the Netherlands. During the show the company will showcase its complete family of Astral wireless devices, including the brand new A20-Nexus Go true diversity digital wireless receiver and the A20-TX digital wireless bodypack transmitter as well as its 8-Series mixer/recorders and MixPre II series audio mixers. In addition to this, booth visitors will have the opportunity to enter to win a limited-edition silver MixPre-3 II in honor of the company's silver anniversary. Sound Devices will be located at stand 8.C95 from September 15-18. For more information, please click here.
"With the addition of A20-Nexus Go and the A20-TX transmitter, we believe that our Astral family offers the most complete solution for wireless audio available to professionals today," said Sound Devices CEO Matt Anderson. "Responding to industry feedback, we've made Astral series products more compact and rugged than ever before, with a feature-set and intuitive control scheme that makes them ideal for every imaginable wireless use case."
A20-Nexus Go combines all of Sound Devices' latest innovations into a portable, easy-to-use package with up to 8 channels of crystal-clear wireless signal in a convenient half-rack space. Sound Devices' proprietary SpectraBand technology gives A20-Nexus an industry leading global tuning range of 169-1525 MHz, NexLink advanced long-distance modulation for increased range and signal stability, GainForward Architecture for streamlined gain control from the mixer, and an integrated Real Time Spectrum Analyzer (RTSA) for intuitive frequency coordination. The A20-TX digital wireless bodypack transmitter has a multipurpose input, flexible powering, and ultra-low-power e-Paper display.
In addition to the entire Astral family of wireless products, Sound Devices will also be demoing its 8-Series mixer-recorders and MixPre II series audio mixers, mainstays of professional sound engineers across the world. The 8-Series line is designed for professional workflows and offers robust recording power and features in a rugged, reliable device, including the Scorpio, 888, and 833. The MixPre II series is designed for more portable use, and features low-noise Kashmir preamps and a 32-bit float depth at 192 kHz sample rate for superior audio quality with maximum dynamic range in a package that can fit any kit bag.
Check out all of Sound Devices' Astral Family Wireless Products, 8-Series Mixer Recorders, and MixPre II series audio mixers at Stand 8.C95.
For more information, please click here: https://www.sounddevices.com/sound-devices-ibc/
About Sound Devices
​For 25 years, Sound Devices has created premier audio equipment that helps sound professionals capture superior audio. The company's products have been used on the sets of award-winning movies, TV shows, and documentaries. Sound Devices designs, assembles, and supports its products at their Reedsburg, Wisconsin, headquarters and their Madison, Wisconsin, and Rickmansworth, UK, offices. For more information, visit www.sounddevices.com.

Steve Bailey Hummingbird Media, Inc.