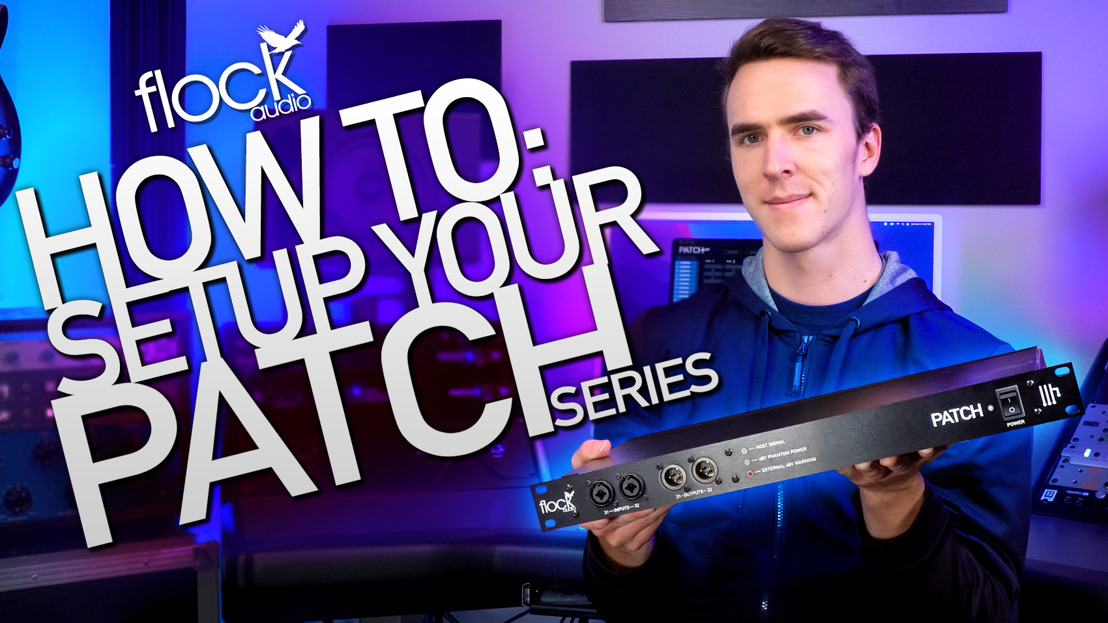 How To Setup Your PATCH with Flock Audio
Video helps new and existing customers better understand how to set up PATCH Series hardware and use the PATCH APP software
Kelowna, British Columbia, January 18, 2023— Flock Audio has published a new entry in its latest YouTube series designed to educate users on the PATCH Series digitally controlled analog patchbay system. The video entitled 'How to Setup your PATCH Series' featuring Ben Shipley from Flock's Technical and Operations Support team– shows the unboxing and installation of both flagship 64-point PATCH unit and the PATCH APP control software. Shipley covers the basics of setting up the PATCH hardware, including connecting outboard gear to the PATCH's DB25 connectors, assigning and labeling connections within PATCH APP, and key shortcuts and workflow tips for navigating the PATCH APP GUI.
The PATCH Series has revolutionized hybrid digital and analog audio workflows with its point-and-click software-controlled routing of conversion-free analog signal paths. With Flock Audio's continued efforts to offer insights and guidance the company proves their commitment to the customer experience as well as their product's integrity. "At Flock Audio, we consider it an important responsibility to provide our users with every resource possible that could help them unlock the full potential of our products," says Flock Audio Founder and CEO Darren Nakonechny. "Providing informative videos and illustrations on setup and use of our PATCH Series hardware and PATCH APP Software not only makes these existing customers feel confident in their purchase of Flock Audio products, but also demonstrates to prospective users just how easily the PATCH Series can be integrated into their setups. We hope our video series inspires Flock Audio fans old and new to explore the possibilities of digitally controlled analog routing!"
In addition to instructional videos, the Flock Audio YouTube channel features a wide range of informative content, including recent product and APP launches insights from the Flock Audio Team, and tips, tricks, and studio tours with a stable of well-regarded audio engineers such as Richard Devine, Mixed By Q, and Neil Parfitt.
To watch more informational videos please visit, http://www.youtube.com/flockaudio
For more on the PATCH Series visit: http://www.flockaudio.com.
​
About Flock Audio
​Flock Audio Inc. is a pro-audio manufacturer based in Kelowna, British Columbia, Canada, founded in 2017. The company is best known for its PATCH System Series, which is a Digitally controlled, 100% Analog Patch Bay routing solution for professional audio environments. For more information on Flock Audio and its products, please visit the company website at http://www.flockaudio.com.
---