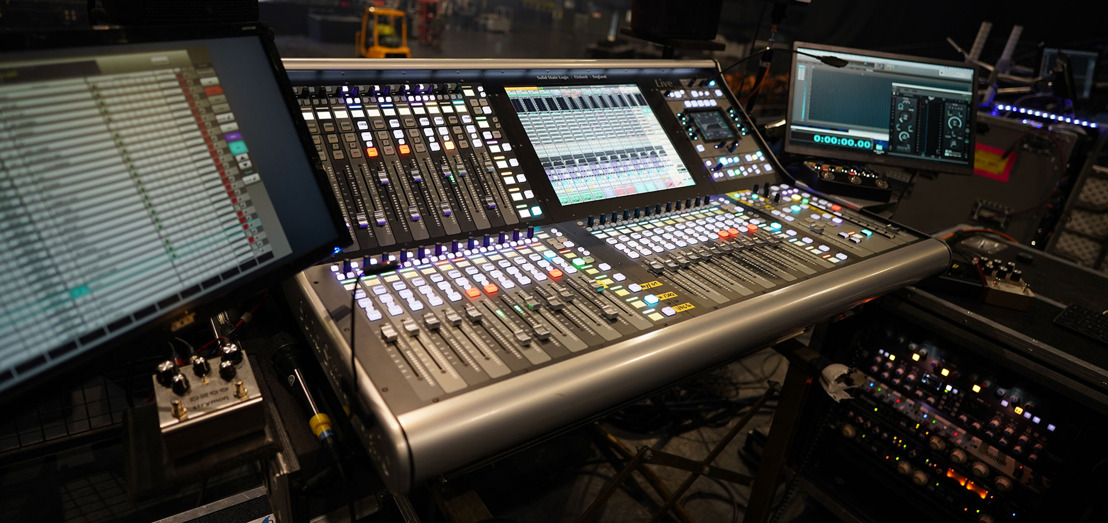 French-Israeli Artist Amir Wraps Three-Year Long Re\Tour, Employing Solid State Logic Live L550 Plus, THE BUS+ and Fusion
L550 Plus Console at the Centre of Complex Network Setup, with THE BUS+ and SSL Fusion strapped across the master bus
France, January 10, 2023 — Re\Tour, a three-year-long series of dates by French-Israeli singer and songwriter Amir Haddad, better known simply as Amir, recently concluded with a concert in the south of France shortly before the end-of-year 2022 holidays. Amir's longtime front-of-house engineer, Ivan Herceg, employed a Solid State Logic Live L550 Plus console to mix the production for the final leg — Chapitre 2 or Chapter 2 — of the tour, pairing it with his outboard SSL Fusion stereo analogue processor and newly acquired SSL THE BUS+ compressor.
Re\Tour was Herceg's first experience with an L550 Plus, which was supplied by Belgian rental house DEE Sound & Light. But he is no stranger to SSL Live consoles, having been using them since 2016, when he began working with Amir, an artist well known to French-speaking music fans through his involvement with the Eurovision Song Contest and the French TV version of The Voice. On Amir's previous tour Herceg took out an L200 console, also utilizing L200 and L300 desks on tours with various artists, including folk-pop duo Lilly Wood & The Prick. For a 2020 tour with singer-songwriter Louis Chedid, he says, "I bought an L100; I was the only guy in France to have one."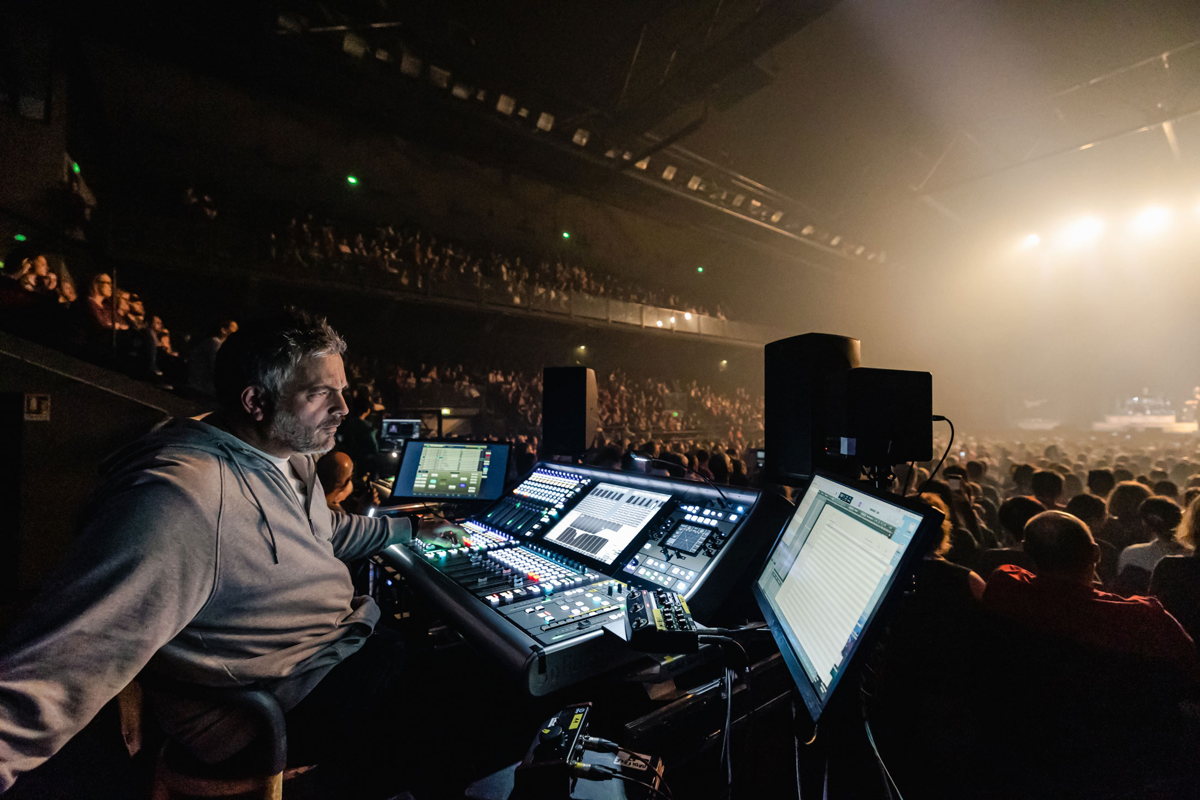 L550 Plus driving sophisticated network setup
​The Re\Tour production included a Dante network to transport audio across the stage and between the FOH and monitor consoles. While Herceg had incorporated Dante into the sound design on previous tours, he says, Re\Tour was the first time that networking played such a large role in the production. "We had almost everything on Dante," he says, including all the Shure wireless microphones and the guitar transmitters used by Amir's five-piece band. The L550 Plus at FOH was connected optically to the stage via SSL X-Light Bridges over the primary and secondary Dante networks, with Herceg taking ownership of the SB32.24 Dante Analogue Stagebox preamp gains and the monitor engineer taking his compensated gains.
Herceg, who was used to having all the channel faders in a line across the surface on the L200 and L300 versions of the Live console, initially thought that the L550 Plus, which has one 12-channel Fader Tile positioned in the upper section of the desk and two along the lower section, worked better as a monitor mixer. "But in fact," he says, "it's really good for live mixing, because I use the third tile for effects and so on. And I also have a Channel Control Tile on the L550," he says, which provides instant physical control for a selected path, and which he enjoyed using previously on the L300.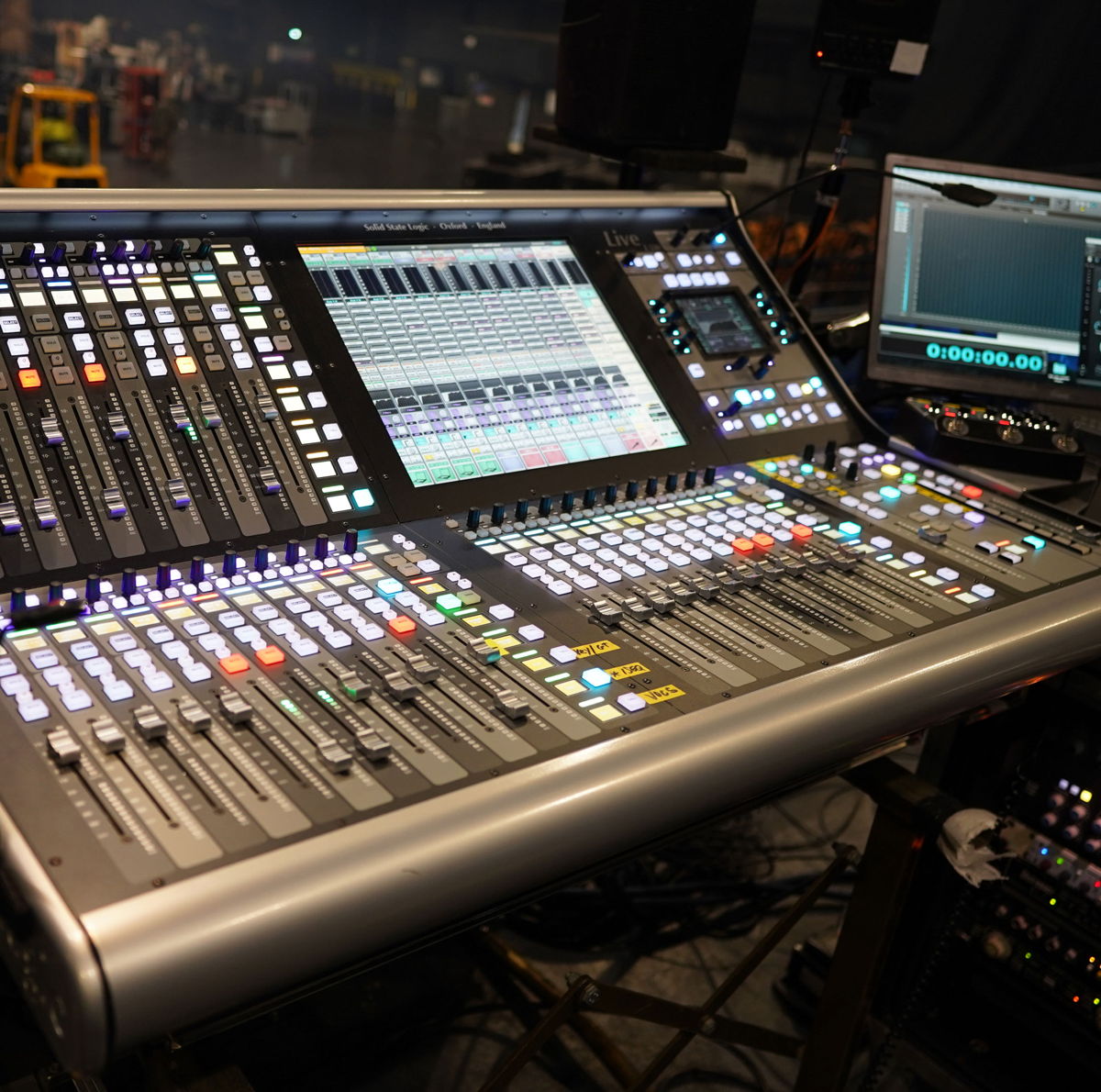 Final touches with Fusion and THE BUS+
​Whichever Live console model Herceg has in front of him, he has long utilized his SSL Fusion processor to control the level of the outboard units that he inserts across the desk's master bus. "I use it as a leveler for in and out," he explains. He also uses his Fusion to add colouration, for example, activating the Transformer stage or dialing in some Vintage Drive. "I add a little bit of EQ on the high frequency band, and I will also use the low frequency cut. I also use a bit of HF Compressor," he reports.
For this tour he also added SSL's recently introduced THE BUS+ compressor to the insert on his console's master output, combining it with the Fusion. "I have always used SSL's G Series bus compressor. Last summer I toured with an XLogic G Series compressor," he says. After buying THE BUS+ he was initially concerned that it didn't sound like the G Series compressor, he says. "But I tried a lot of different configurations with compressor colours, THD and so on, and I found the sound again. It's a good machine but it is more complex."
Herceg's racks of outboard analogue and digital processing and effects equipment at FOH were brought into the L550 Plus via the console's local AES and analogue I/O connections. "I plug a lot of analogue gear into the desk even if I use a lot of plug-ins," he says, including a variety of compressors, reverbs and echo units.
The tour's Dante system operated with the monitor console acting as a node, gathering inputs from the stage and directing them to the L550 Plus over the network via the SB32.24. "Everything went into his console," Herceg says.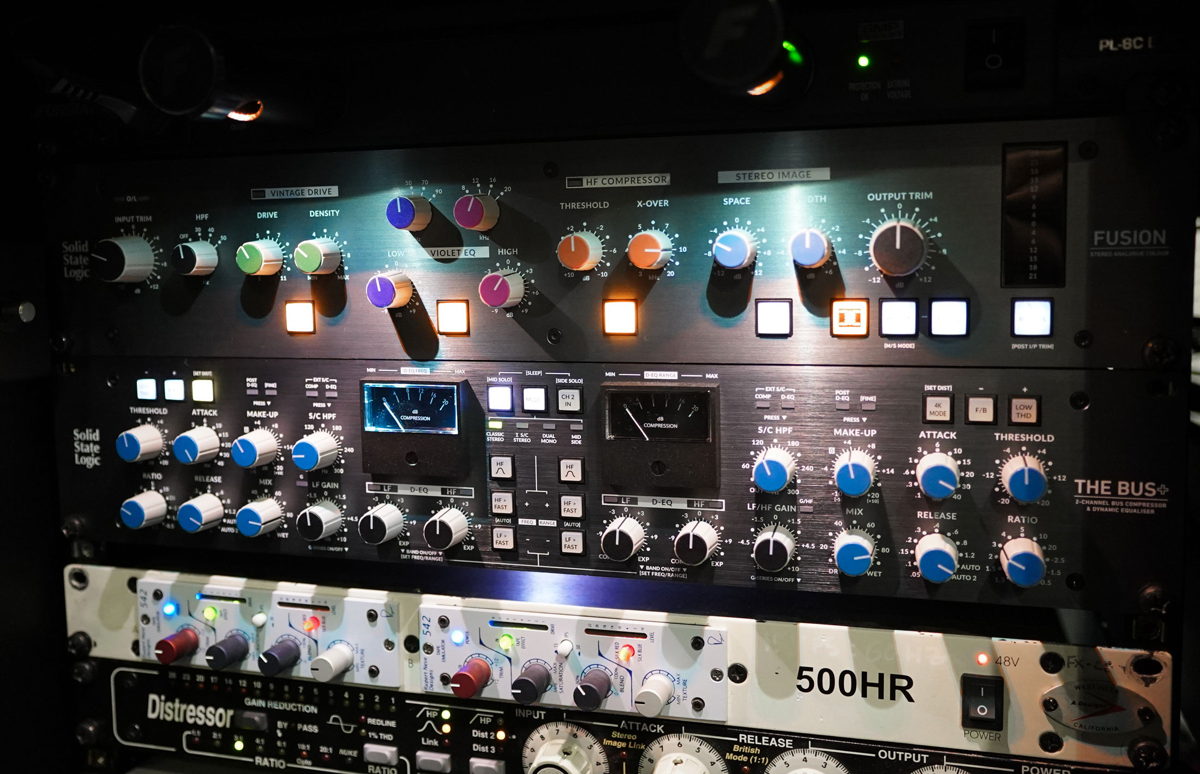 Simplifying the complex
​The Dante setup was particularly useful for bringing consistency to the many wireless guitars in use onstage. Each guitar's wireless signal fed the monitor desk via Dante, where the monitor engineer had a snapshot for each to manage the level and to also mute the related channel as the guitarist changed from one instrument to another. "It's complicated when you have 10 guitars, five on both sides of the stage, and even the acoustic guitars go to pedals," he says. With this networking scheme, "Every guitar is really optimized in level."
Each guitarist's signal is sent to the SB32.24 Stagebox from the monitor console, and from there it passes through an outboard reamper, which transforms the line-level signal to high-Z, then to the guitarist's pedal chain. "Every guitar goes to Dante then it's switched automatically in the monitor console," Herceg says. "The SSL SB32.24 output is really clean. We made some A-B comparisons and, wow! It was difficult to know which was the direct inject and which was through Dante, back to the reampers and to the guitar amp."
This was the first time Herceg had used such a technique in a live production. He hopes that it's a technique that will be more widely adopted when a variety of guitars are being used onstage. "Because we see a lot of other engineers who say that it's a mess," he says. "And it's only possible using Dante."
The monitor desk also routed the MADI outputs from the drummer's Ableton Live setup to the L550 Plus at FOH. "The monitor engineer transformed all that MADI and sent it to me over Dante," Herceg says. Venues on the tour typically accommodated audiences of 4,000 to 5,000. "So our cables were more than 100 meters long. We couldn't make any point-to-point MADI connections unless we used SSL's Blacklight Concentrator," he says. "We found the solution — Dante — and it worked really well, with zero bugs in 32 shows."
​
​
About Solid State Logic
​Solid State Logic is the world's leading manufacturer of analogue and digital audio consoles and provider of creative tools for music, broadcast, live and post production professionals. For more information about our award-winning products, please visit: www.solidstatelogic.com.