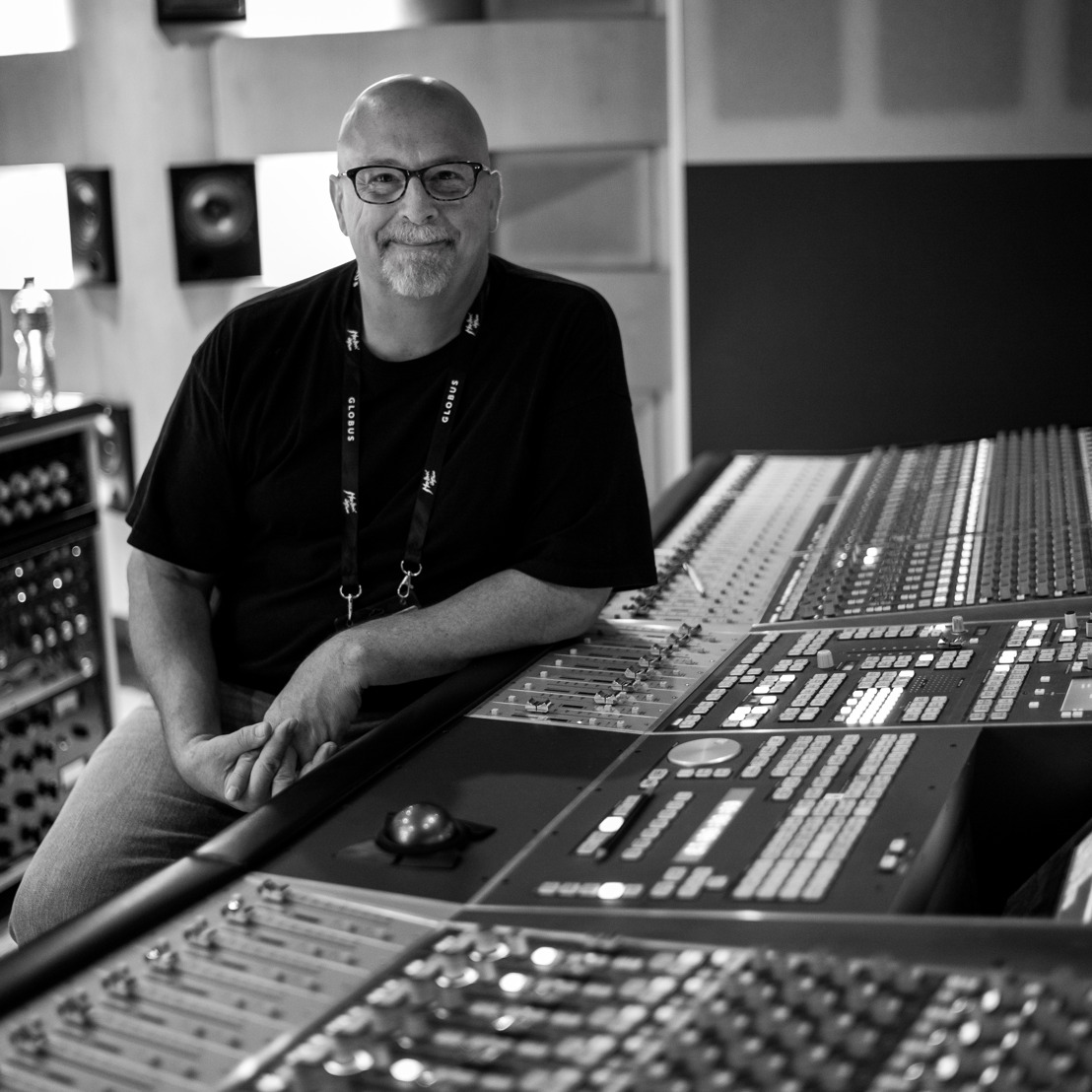 Verona Productions Turns to HEAR's Remote Mixing Capabilities for Coca-Cola® Starlight Product Launch Press Event
Remote Mixing Minimizes Onsite Footprint and Maximizes Quality for Clients Like The Coca-Cola Company and American Express
Atlanta, Georgia, May 10, 2022 - Jeff Friedman knows what will work in a live audio production at the highest levels of visibility. He and his company Verona Broadcast provide technical production management for broadcast and streaming events, a sector he has been working in for over 20 years. When Verona Broadcast was called in by The Coca-Cola Company to produce a livestream press event for the launch of the new limited-release Coca-Cola® Starlight beverage at the company's headquarters in Atlanta in March, he knew that an innovative audio solution could help achieve the industry-standard results he needed efficiently and effectively. He reached out to Harris-Elff Audio Resources (HEAR) – a company founded by broadcast and live recording and mixing experts John Harris and Jody Elff – to leverage their innovative and reliable remote mixing workflow.
A tradition of excellence
​Friedman – who has known Harris and Elff for over 15 years – points out that HEAR's stature in the industry lent immediate credibility to their innovative technological implementations. "John and Jody are just incredibly talented individuals," he says. They're very meticulous, very technical, and incredibly easy to work with, and that reputation is a really important part of my confidence in their remote mixing solution," he says. "With anything broadcast or livestream-related the trust factor is key, and I know these guys are not going to put out a product that's not going to work."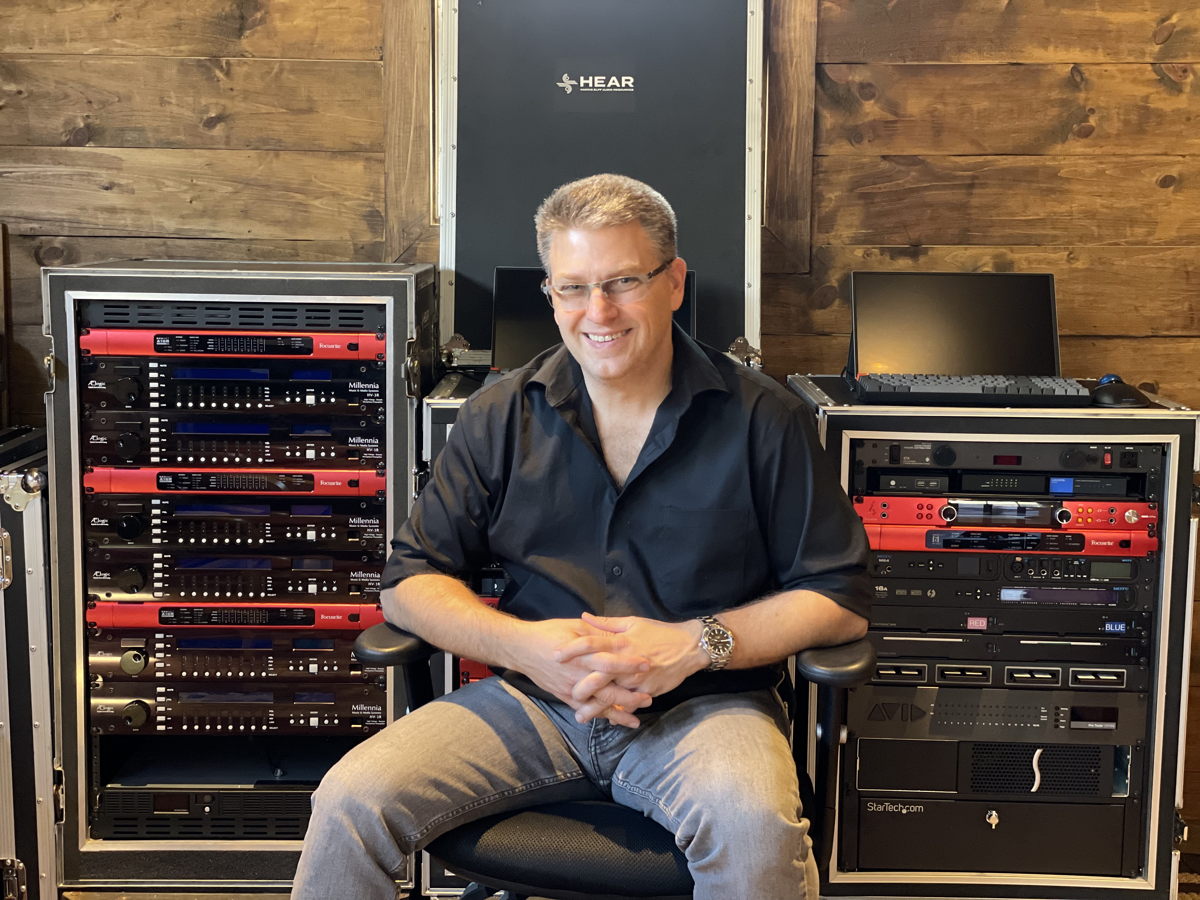 Locking in the livestream
​Footprint was a key concern of Friedman's going into a corporate media event of this kind – which included a performance by musical artist Ava Max. "This event took place at The company's campus – not at a studio or anything like that – so it was incredibly valuable to be able to bring the mixing portion of the operation offsite and minimize the on-site footprint," he says. The event would be Friedman's second experience working with HEAR's remote mixing capabilities, having utilized them on another event for American Express in Miami Beach which featured a musical performance by Lizzo. "That event in Miami had some similar challenges in that setting up a remote audio truck would have been logistically impossible. "I felt super confident about HEAR's remote mixing solution going into that event and I was not disappointed."
For the event itself, Elff traveled to the event site in Atlanta to facilitate the setup of the HEAR's compact rack unit as well as to oversee microphones placement and network infrastructure. Though small in size, this rack unit contains all of the necessary routing for incoming and outgoing audio sound signals. "Our onsite unit is mixing all of the audio from the stage direct to broadcast," Elff explains. "We're using the internet connection to monitor and control the mix, so the audio itself is not susceptible to internet failure, and therefore completely uninterruptible." While Elff set up in Atlanta, Harris mixed the event from his studio in Pennsylvania, where he was able to leverage the full capabilities of his mixing console for a seamless broadcast-ready mix. "We've done many what we call 'portable' jobs before – where you're working somewhere that doesn't have preexisting audio infrastructure," says Harris. "In the past we would have to find a place on-site to set up a makeshift mix room, often in less-than-perfect environs and sometimes having to rely on headphones or other suboptimal equipment. Our remote mixing capabilities allow us to hear playback from our own tuned studios under ideal listening circumstances with all the tools we need at our disposal."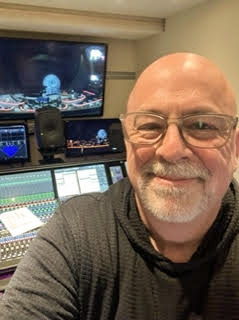 A new frontier in quality
​While HEAR has successfully navigated the challenges of 'portables' in the past, Harris emphasizes that working from the comfort of his own studio has tangible benefits for the quality of the broadcast product he and Elff can deliver. "We want to provide our clients with the best possible service every time, and working from a treated mix environment improves the quality of our mixes," he says. "There's a lot of subtlety and nuance in any musical performance, whether it's an artist with an acoustic guitar, an orchestra, or a full rock band, and we've built our careers around getting those subtleties across to listeners. It's what we do, and we can do it best from a proper studio."
Elff concurs with Harris's assessment, noting that remote mixing makes the entirety of the production process smoother and more precise, ensuring perfection to air. "The fact that whichever one of us is mixing the show is in an acoustically-tuned studio with a full mixing console from the first rehearsals right up to the live event – listening to the director calling their cues in real-time – is invaluable," he says, referring the video and intercom capabilities that HEAR provides as part of their workflow to facilitate seamless collaboration with the onsite team. "The mix engineer has the opportunity to get every transition under their hands, ensuring smooth segues and all the other nuances that make for a great broadcast."
Room to grow
​For Harris and Elff, corporate events like the March product launch only scratch the surface of their technical capabilities. "What we're offering is incredibly powerful," Elff says, who notes that each of their on-site racks supports up to 128 channels of audio input. "We can reliably support high channel counts without needing to roll in a remote audio truck and run 1,000 feet of cable from the stage out to the parking lot." Harris notes that events like the launch demonstrate the benefits of remote mixing, including footprint, cost savings, and efficiency, while providing more potential clients with access to the most experienced engineers in the industry. "We're happy to be part of new solutions for high-level corporate clients, who rely upon consistency and the comfort of knowing that their team is solid."
Friedman, who has seen more and more of his work include a remote component in either the video or audio front, sees HEAR's remote mixing services as something Verona Broadcast is sure to leverage again in the future, especially after the success of their recent collaborations. "I'm a big supporter of helping get new workflows out into the world, and remote mixing isn't going anywhere," he says. "We're in a whole new world now, and from an audio perspective HEAR is on the cutting edge of it."
About HEAR
Harris-Elff Audio Resources is a partnership between John Harris and Jody Elff, providing recording and mixing services, promoting awareness of the value of experienced audio professionals, and connecting content producers with audio specialists across the media spectrum. Harris and Elff have partnered to address the needs of an evolving media industry, providing recording, mixing and audio production resources that focus on the talent and experience of the engineers, coupled with hardware solutions to meet the needs of a new generation of content producers.
With over 70 years of combined professional audio experience focusing on (but not limited to) music, John and Jody have worked in some of the most demanding audio production environments in the world, from high-profile international television broadcasts to field recordings in Africa, art installations to award-winning album productions, their experience spans the spectrum of what is possible when working with audio in the 21st century.