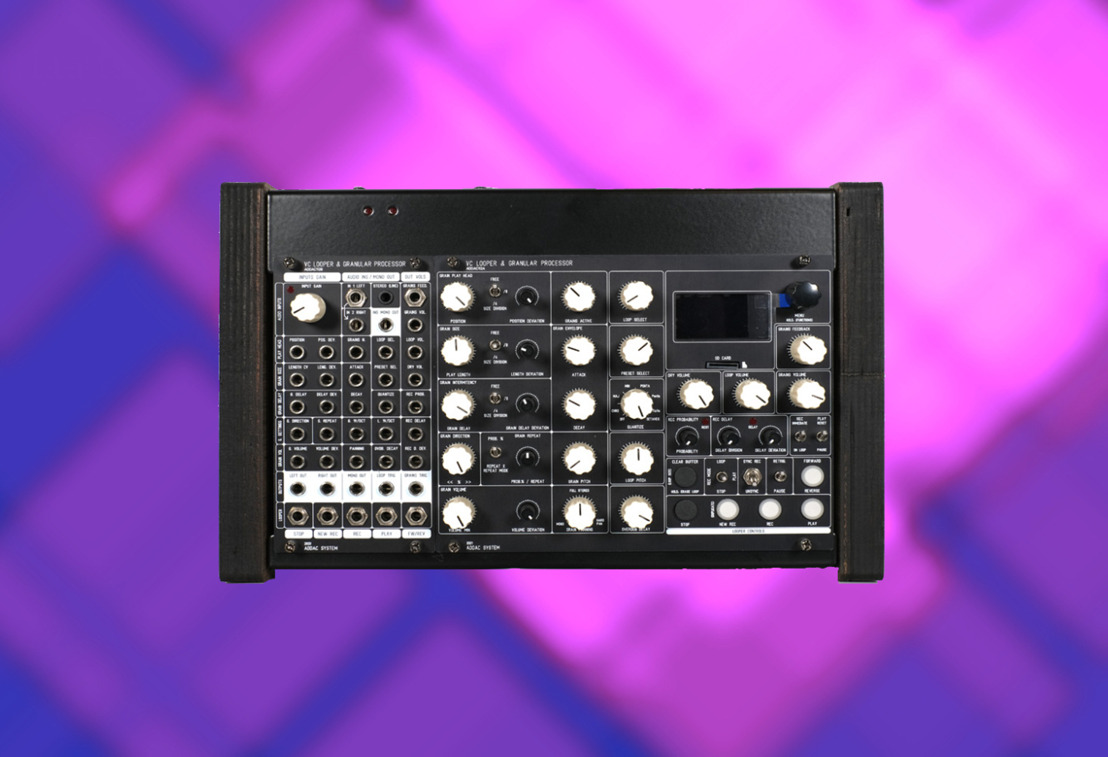 ADDAC System VC Looper & Granular Processor Now Available as Standalone Instrument
New portable frame for the powerful ADDAC112S encourages standalone desktop use or integration into larger Eurorack system
Lisbon, Portugal, March 7, 2023 — ADDAC System announces its new ADDAC112S and ADDAC112SF, portable compact solutions for its powerful ADDAC112 VC Looper & Granular Processor launched last summer. Now available as a standalone instrument with a dedicated frame, the VC Looper & Granular Processor brings a sea of possibilities to modular synthesists looking to integrate granular synthesis and powerful looping features into their soundscapes
Whether you are new to modular synthesis and looking for a powerful 'gateway' to sonic creativity, or you are already a Eurorack user looking to augment your system with deeper powerful new capabilities, ADDAC System's new standalone desktop option makes it easy to integrate the ADDAC112 VC Looper & Granular Processor into your existing set up.
If you are an existing owner of the ADDAC112, the frame is available for separate purchase and provides all the necessary power through a convenient USB-C connector. The frame also features retractable feet that can be adjusted to a 30-degree angle, allowing for convenient ergonomic use within your studio or portable system.
The frame's intelligent and compact design complements any setup, and will make a statement on either your desktop or floorboard. Its sturdy construction will protect your Looper & Granular Processor and keep it secure, while providing a perfect view angle and easy access to the ADDAC112's controls.

​Features:
USB-C connector for power dellivery

±200mA maximum current

Two 2x8 Boxed IDC Connectors

45HP
Dimensions;
width: 27cm

height: 17cm

depth: 5.7cm
The ADDAC112S Standalone VC Looper & Granular Processor and the ADDAC112SF VC Looper & Granular Processor Frame are both available now for €780 and €240 respectively. ​ For more information, please visit the ADDAC System dedicated webpage: https://www.addacsystem.com/en/products/modules/addac100-series/addac112
About ADDAC System
​ADDAC develops advanced instruments for sonic expression. The company started back in 2009 with an ambition to explore the potential crossover between analog synthesizers and computers. Because its first creations sparked a lot of attention, ADDAC decided to work hard and put them in customers' hands. Today our product line is focused on a new breed of hybrid synths, that make use of the best of both the digital and analog worlds. We've grown to be able to reach thousands of enthusiastic clients, friends and collaborators. Always looking into conceptualizing and developing the most exquisite instruments, we hope you're able to join and share this passion with us.
Our solutions can be found in many personal studio throughout the world, owned by musicians in several planes of stardom. We especially appreciate seeing them being used in a very wide range of musical genres.